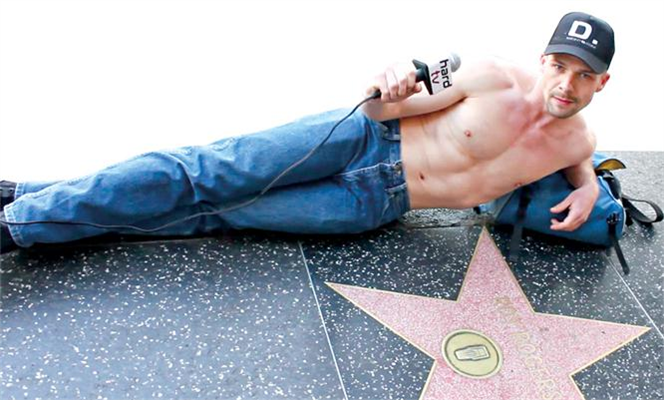 FAB MAGAZINE:
"I'm a neo-fetishist. If it's new, I want to fuck it," laughs Ryan Russell. Russell is a tech-savvy performer who stays in constant connection with his fans via Twitter (@RyanRussellXXX) and his website (ryanrussellxxx.com). "These are the people who engage with the work; they like porn and they want to talk to porn people," he says. Russell's newest vehicle, hardtv, updates tabloid television by injecting sex into the headlines, creating the ultimate gossip/jizz rag. The new hour-long sexertainment show is produced by Canada's first gay adult cable channel, also called hardtv (which, along with fab, Xtra and squirt.org, is a Pink Triangle Press production), and promises an informative, sexy and hilarious peek into the gay porn industry.
By blending pop culture with overt sexuality, the producers hope to accelerate the careers of many pornstars — similar to what Tiger Beat achieved for Justin Bieber.
READ THE REST OF THE STORY AFTER THE JUMP!
On screen the excitable Russell is the perfect sidekick to co-host/ porntart Jeremy Feist's deadpan demeanour. In person, Russell speaks with so much enthusiasm for porn and sex you'd think he was selling Arbonne.
"Personally, I always wanted to hear Brent Everett talking about whatever funny thing happened on set that day," he says. That common desire to peek past the images carefully crafted by the studios is the inspiration for hardtv's content. "There aren't many people who believe a pornstar's personality on screen is the same as it is when he is sitting on the couch watching American Idol," Russell says.
Russell says hardtv is one of the more fulfilling experiences he's had in the industry. "We love The Daily Show and we love those various entertainment news programs," he says, explaining the decision to use the standard anchor-desk format (though what other anchor has climbed atop a desk to expose a vibrator lodged in his posterior?).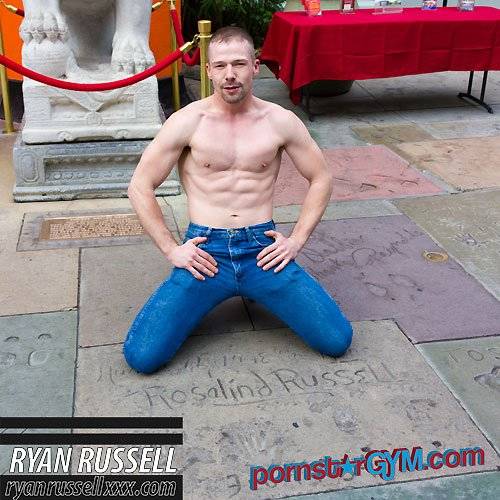 The first episode features notable American drag queen Sister Roma, reports from the Cybersocket and Fag Hag Awards, a trip to the Topco sex-toy warehouse, and a review of JC Adams' latest book, Gay Porn Heroes. Fellow pornstar turned media darling Eddie Stone will make recurring appearances as hardtv's roving reporter. "There's never been anything like this for porn that satisfies both the audience and producers' needs at the same time," Russell says.
But in a profession where egos can be large and hard to swallow, Russell is cautious when doling out the prods and blows. "There are a lot of big personalities in porn, and they're either going to love it or take offence," he admits. For Russell, taking aim at the big shots and up-and-comers will only benefit their brands and bolster the industry. "They're getting market exposure for their toys or films, and they're getting their names out there in front of an audience."
Since getting his break with TitanMen, Russell says he has exceeded his career expectations. He attributes his success to a professional background in marketing. "I just knew what I needed to do to make a healthy brand," he says. The owner of a marketing company, Russell employs a small team to help keep him on top of trends and build his career in Toronto's relatively small industry. "Porn is marketing, film is marketing, music is marketing," he shrugs.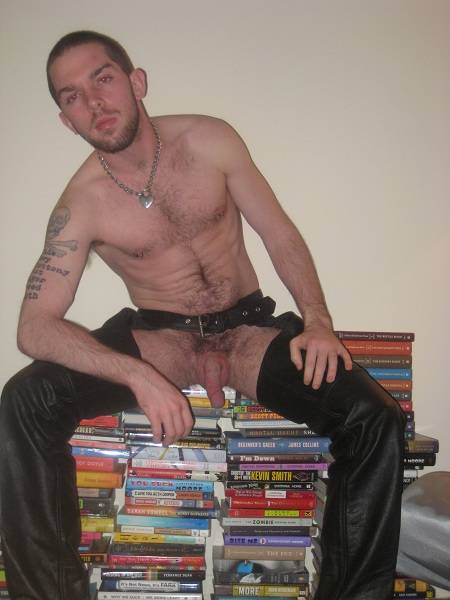 Russell keeps a realistic and balanced outlook toward his prospects in Toronto. He believes that individuals who take the initiative to produce and promote work in innovative ways can only help Canada's sex industry. "A show I taped at Goodhandy's has had 50,000 views online; five percent of the hits were from Canada," he explains. "Someone in North Korea has seen me perform at a sex club in Toronto. North Korea! That's crazy."
For Russell, sex is the gateway to greater possibilities as an entertainer and host. His webcam appearances demonstrate his natural ability to blend conversation with penetration. "There are a lot of performers who go on and just jack off or fuck, but if you can chat and crack a few jokes, then everyone is having fun," he says. Russell has one of the highest-rated shows on Cam4, and his live broadcasts from Steamworks are a hit. "You see performers eclipsing the studios, because camming is different; it's more intimate, and people feel like they are participating or perhaps seeing something they shouldn't."
Russell sells one of the most expensive dildos on the market: an artisanal, 7-inch, signed replica of his penis, handcrafted one erection at a time. On each episode of hardtv, he tests products similar to his own, even an unenthusiastic take on the CB6000 male chastity belt: "I would never in a million years allow somebody to put my penis under a lock. Leave my dick alone!" Although his review is less Anna & Kristina's Shopping Bags and more Shit Pornstars Say, Russell is focused on educating and reinforcing healthy sexual attitudes. "They can see you using these things. They might like it or hate it, but either way you're going to relate an experience."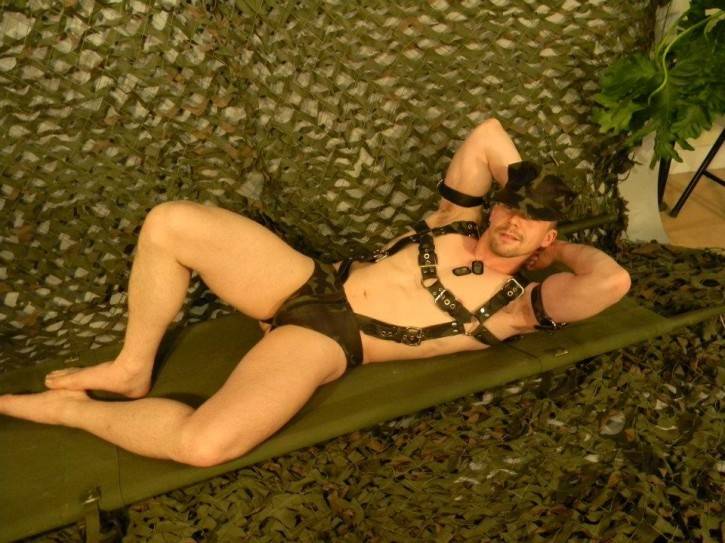 Between the punchlines and rimshots, product and book reviews, there is one clear reason to tune in: "It's very sexual. You get to see dirty dick all the time," Russell says.
hardtv launches on Thurs, March 8 on the hardtv cable channel. Call your digital cable provider to subscribe. The show will also air online at squirt.org and nakedsword.com.
Shawn Hitchins is a writer and performer who, according to Russell, is likely to have "a purple hue to his scrotum because he is a redhead." shawnhitchins.com @shawnhitchins