Who wants to get lucky? Well, you've got nothing to lose when it comes to this giveaway: it's time to Log In & Get Lucky!
From August 15 through 21, all you have to do is keep doing what you love: Log in each day to Squirt.org!
Enter Just By Logging In
It's so simple to enter, you're practically already doing it. Every day that you log in to Squirt.org gets you one entry to the contest. And we all know entering is the fun part! No need to submit anything – we've got you covered. Just log in every day of the contest, and you've got one entry per day, up to 7 entries!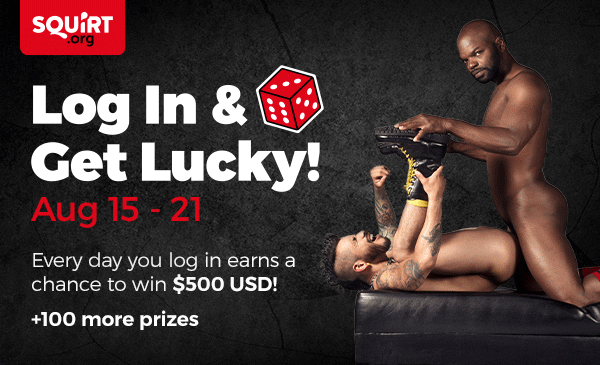 You've Got So Many Chances to Win & So Many Prizes:
1 Grand Prize of $500 USD
50 winners will receive 30 days of Squirt.org Fan Club time
50 member winners will receive a Squirt.org Jockstrap
With so many prizes at stake, and up to 7 chance to win, you can't go wrong! There are plenty of guys to check out on Squirt.org, so get on everyday. You might just get a hook-up, and catch a little extra on the way. Good luck!
The contest begins today, so what are you waiting for? Log in now and get Squirtin'!