It's that time of the week again, when hump day has passed you by and Friday is doing a sexy strip tease from one calendar square away. More importantly, it's time for another sizzling instalment of #ThrowbackThursday (or #TBT, as the in-crowd are calling it).
This week we're bringing you some of the hottest guys from the 70s and 80s. This means body hair. This means thick, cumming cocks. This means the occasional upper lip fuzz. Last week we got a more nineties focused mix for you guys, so we're going back a little further this time around. Don't forget to leave a comment down below! Here is the latest gallery of some old porn:
1. This stud "moustache" you a question: Will you suck his dick?
2. Jockstraps are a timeless part of any good porn. Especially in a nice bright white.
3. If he wears those shades while you blow him, how will you see his eyes roll back in pleasure?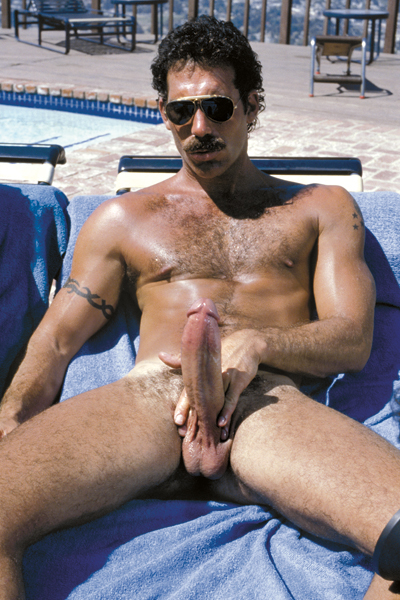 4. Fellow cop or cock-sucking criminal? The upper lip hair says cop, but being that sexy should be criminal.
5. Five. That's how many cocks he wants to suck tonight.
6. This is his way of saying he wants to fuck you.
7. This guy looks like he was pretty serious about getting laid.
8. They say blonds have more fun. I guess we'll have to catch up with this stud and find out if they did back then, too.
9. We've included this picture so that you would know what kind of butt a ten-is. Get it? Ten is… Tennis… Anyway, here's a hot ass:
10. Would you rather be the top or the bottom?
11. I guess you could say the 80s was like a "hole" different time.
12. This stud's name is Sky Dawson. His scene partners were always told to reach for the sky. I guess you could say they did big things.
13. Both these guys have pretty nice bodies… overall. See what we did there?
14. Outdoor sex has always been a group activity.
15. He's just disappointed this is the last picture in the series.
Which picture was your favourite? Leave a comment down below.