Every man with any kind of sex drive has fantasized about being a porn star. Maybe not as a serious, thought-out pursuit, but at least in passing. You've caught yourself zoned out, thinking about getting to fuck hot guys on cam. You've imagined the thousands of twitter followers waiting for your latest dick pic. You've maybe even filmed yourself jerking off or having sex. While you may not be having sex in a professionally lit studio any time soon, there are some ways to live out the porn star fantasy.
1. Make A Porn Tumblr
Tumblr porn is it's own breed of porn. It's hot amateur action that you can't find other places. Plus tons of hot guys have accounts dedicated to posting their nudes. Eventually some of those dudes even become actual porn stars. Take for instance Sambaaaa (a.k.a. Sam Syron). His tumblr is a huge platform for him to share pics of his body. That's something you can do too.
Here is some of his amateur Tumblr stuff:
2. Create a Steamy Snapchat Account
There's a whole subculture of porn that exists on snapchat. Everyday dudes who, behind closed doors, whip it out and share it with the world. A quick google search can help you find these accounts, and there are guys of all types: hairy, young, mature, muscular, chubby, twinky, hung, average, and more. If you're looking to show off your body in a not-so-permanent way, make a snapchat account dedicated to your nudes, publish it online somewhere, and wait for the viewers to roll in. Here are some sexy snaps to inspire you:
3. Shoot Amateur Porn
Even if it's just for your own personal viewing, throw a camera into your next hookup. You don't even have to put it online (although we recommend you do, especially in the video section on squirt.org). Just adding that voyeuristic/exhibitionist component in the bedroom can be hot. At the very least you'll get some more material for the spank bank. Here's some amateur porn to get your juices flowing:
4. Start Webcamming
If you want to have a taste of being watched on camera, webcamming is the perfect way to explore your fantasy. Show off your cock on camera on a chat site or on Squirt.org. Once the interaction with someone else is done, the video vanishes into thin air. The footage comes and goes as you cum and go. Plus you might even get to chat with hot studs from all over the world.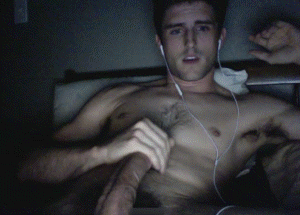 5. Make the Most of Online Chat and Hookups
Porn stars have sex all the time. Day in and day out that putting their cock in and pulling their cock out. Log in to Squirt.org and update your profile with your sexiest pics. Be sure to include one of your face, though. What's a porn star with no head? Start chatting with guys around you, and if you really want to live the fantasy then organize an orgy. Who doesn't love a good gangbang porno?
Have you done any of the above? Leave a comment down below.