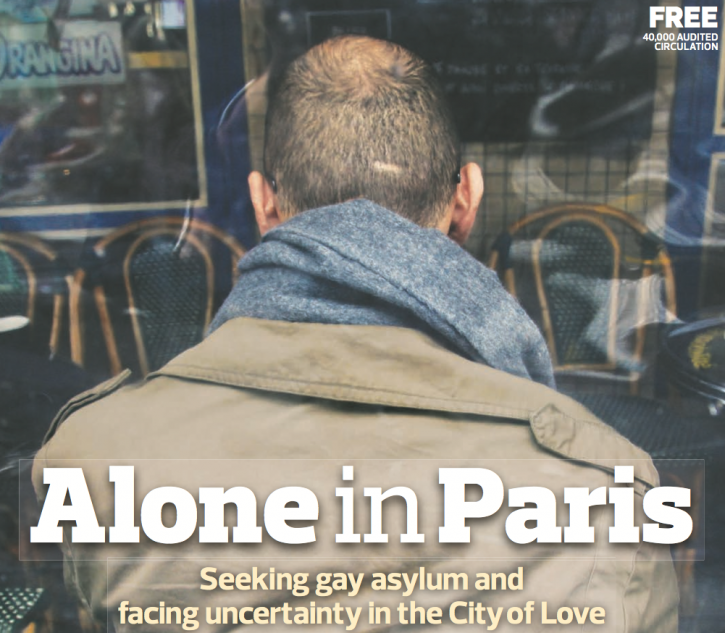 It is a Saturday morning in the heart of the Marais, Paris's well-known gay district. A young African man paces nervously in front of the Centre LGBT Paris-Île-de-France, hands in his pockets, staring nervously at the unopened door.
Ibrahim Touré came to France from Ivory Coast in October 2011, on false documents. He says he is gay, and his sexual orientation had become known in his neighbourhood back home. He continued to stay on good terms with his ex-wife and small daughter and to work as an Abidjan taxi driver until civil war broke out in the country in late 2010.
"The new group that has come to power since the electoral crisis are Islamists, and they detest gays," says Touré, who is himself a Muslim. "There is a threat to my life, and I can't go back." Touré lived in metro stations and shopping centres in Paris before an acquaintance told him about a Red Cross shelter. He has been living there for several weeks while he explores other options.
"I didn't even get a chance to say goodbye to anyone. I was working and my grandmother called and said the militias had come looking for me. My brother helped me get to the airport. I just left. I decided to claim asylum . . . I couldn't even call my grandma back."
Touré is afraid he will be sent back to his home country. It's a logical fear: according to Philippe Colomb, president of the Association for the Recognition of Rights of Homosexuals and Transsexuals to Immigration and Residence (ARDHIS), France accepts only 11 percent of political asylum seekers, regardless of the reason. On appeal, that number rises to 24 percent. No specific statistics are kept for sexual orientation–based requests.
READ THE FULL STORY HERE @ Xtra.ca
Xtra speaks to 4 Gay asylum seekers HERE