I am an average guy in looks and weight; I have always had a thing for hot guys every sense I was in school. And after finding out about the rest stop near my house I found that I was able to get what I wanted from the guys that hung out in the woods at night.
I was only 19 and had a nice body from playing sports but I did not care about my body I just wanted to have a guy use me for his pleasure I wanted to suck and be fucked as often as I could get it. I had always dreamed what it would be like to have 2 guys use me as they're cum dump. And on this one hot August night I got just that and more. I had played around with a couple of my friends with bondage and loved it, but on this night when I walked up into the woods I felt as if some one was behind me.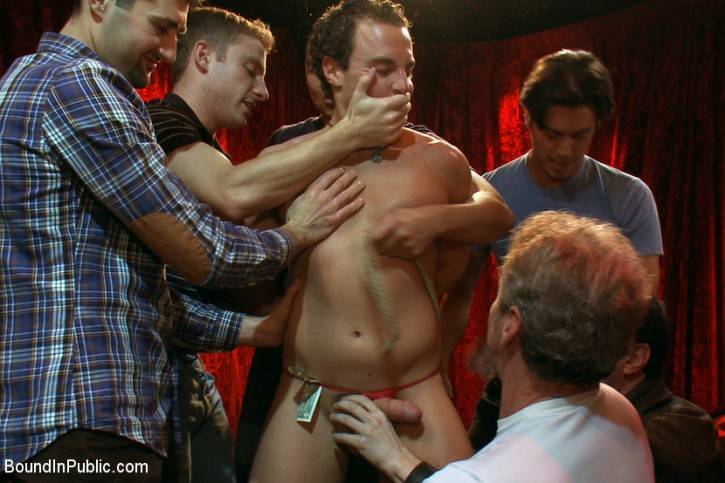 I was right… there was. And the guy who was very hot looking wasted no time in small talk. I stopped on the trail and stood next to a tree when he walked up to me and with out saying a word reached down and grabbed my cock and balls in his hand. My cock got hard in a flash. All I had on was a pair of my nylon sweatpants so the guy got a good holds on me and asked if I liked to suck cock. Before I could answer he told me to get on my knees and as I did this he pulled out his hard cock all 8'' of it. I opened my mouth and he plunged his hard cock down my throat. As I tried to breath he fucked my face shoving his cock in and out but before he shot his wad he stopped and held his cock in my mouth.
Read The Rest Of The Story After The Jump…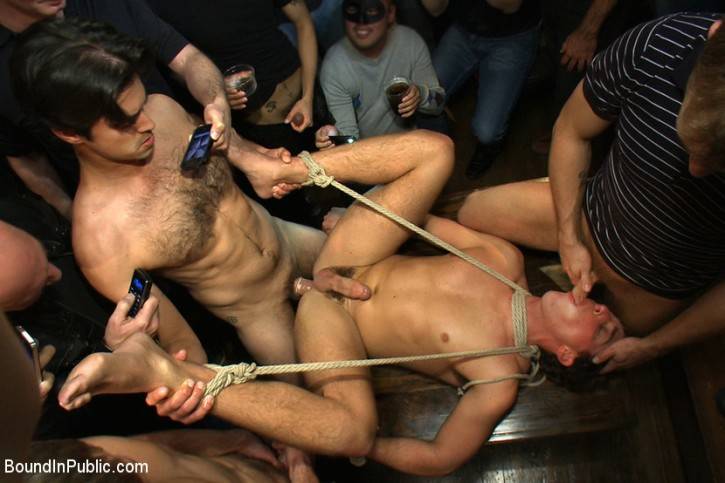 He asked if I was a good boy and if I liked to have a guy use him as a cum dump, I tried to say yes but all I could do was groan and grunt the answer. So he said that must mean yes. Before I could do anything he slid his cock back down my throat and then put a leather collar around my neck. This scared the hell out of me but also had me excited at the same time thinking was my dream going to come true? Before I could think about it to long I was pulled to my feet and had a leash attached to the collar, I was then walked down the trail and around the end of the chain link fence. I had never been around the fence and never new the trail went any further than the fence.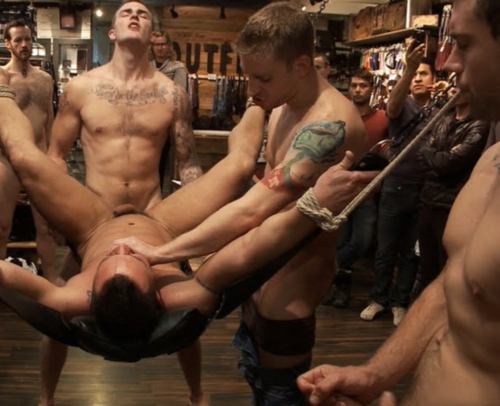 As I was walked down the trail I was told I was his slave and him and his friends would have fun with me and they would show me what happens to cock suckers when they get collared. My mind was running wild wondering what he was going to do to me, know I was scared and I no longed had a hard cock. I wanted to run but he had a tight hold of the leash. We topped a hill and I saw a large rock with 4 other guy's standing around playing with their hard cocks. Now for some reason my cock was hard aging maybe because I was thinking they would see us and help me. I was wrong they did see us but they helped the guy I first mint. As I was walked up to the group I thought to my self I mad finally going to get to have group sex and I was getting excited, and now I wanted more and wanted them to use me. Every guy there was in there 20's and early 40's. Before I could say anything I was stripped and hand cuffed then they started to grope my balls and finger my mouth and ass saying I would make a good bitch.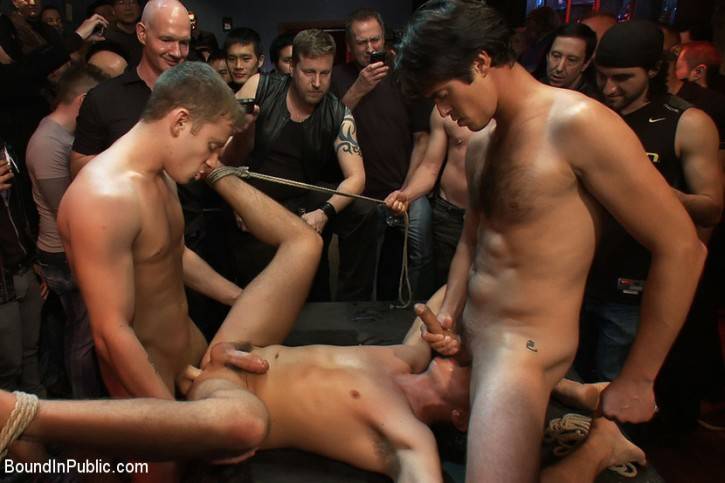 My cock was so hard and drooling pre cum like crazy. I started to lick and suck one of the guys balls then I moved to another guy and yet another before I got to the last of the 4 guys the master of them all shoved his cock down my throat and told me to suck while his boy's make use of my tight ass. I had no complaints on that. I was getting what I always wanted and enjoying it until I felt a cock the size of a ball bat force its way into my tight ass he shoved it in and held it still the pain turned to pleasure as he started to work it in and out making me moan and groan. While he fucked my ass the fist guy fucked my face after he guy in my ass blew a wad of cum in my ass he pulled out and another took his place with a repeat performance all the while I was still sucking the hard cock of the first guy.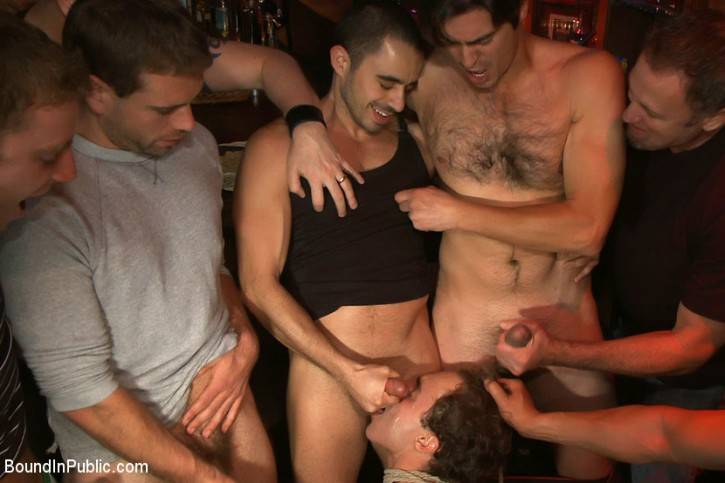 All at once I felt his cock throb in my mouth and next he shot his wad in my mouth but before he was done he pulled out and shot some cum into my hair. I had no time to do anything because another replaced his cock. I sucked it till he shot his cum down my throat this guy shot wad after wad down my throat making me swallow every drop then I had to lick his cock clean.
Once he was done the last guy started to rub his cock on my face and in my hair smearing pre cum all over me. And then his cock was shoved down my throat and he held it their. Until it twitched and he flooded my throat with hot piss I had it running out of my mouth as he kept pissing down my throat and in my mouth, before he was done he pulled out and soaked my hair in hot piss. That did it for me I shot my load with out even touching my cock. And as I was blowing my wad the guy in my ass pumped me full of his hot cum.
Then the guy who had just pissed in and on me took his place behind me. He must have been close because he no sooner got his cock in my ass and he erupted in one of the biggest orgasms I have ever felt in my ass. He filled me full pumping wad after wad into my guts. Then he just held it in me and told me I am going to make a good bitch… for their party.
That is another story. But my dream did come true and I have been used by them since and also found out what happens if you are tied up and left in the woods.