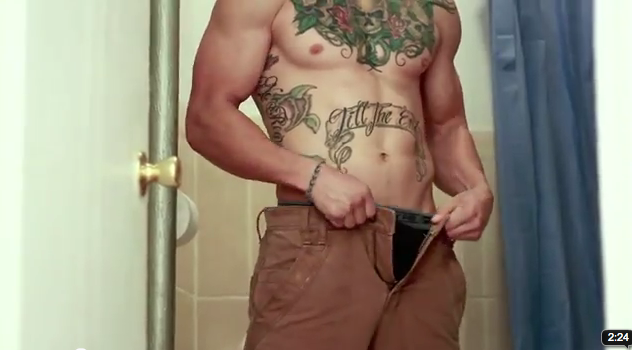 GAY.NET: Nasty Pig is a clothing company that got its start creating products for the gay male market, primarily targeting denim-wearing muscle men. From jock straps and briefs to pants and chaps—all in regular materials like cotton and denim, as well as leather and rubber—the business quickly grew, taking on an urban street vibe that men found incredibly sexy. Now a commercial for their new Dominant Jeans line has some Facebook fans wondering if the company is trying to gloss over its sexual gay roots and target a more mainstream straight male audience.
The commercial in question features a tatted up young guy in his underwear, which is no different than any other brand targeting hip, young men. It then shows him getting a text to hang out with someone, but he refuses, texting back, "Really busy today I gotta do me." He takes off, does some skateboarding, then texts the person back saying he's now ready to "…do you!"
Seems pretty gay so far; after all, what straight guy would tell his girlfriend he's ready to do her? But some online viewers pointed out that the texter's name is never seen. Gender is never known. And there's nothing about the protagonist, other than his clothing choice, that makes him appear to be gay. Is he supposed to be straight? A guy who has sex with other guys but doesn't define his sexuality? Is he "straight acting" and perpetuating the stereotype that the only really sexy guy is one who doesn't act gay?
Or are there just some gay guys out there who are getting their panties in a bunch over nothing?