If you've been getting off to porn scenes that feature double-penetration, you might be wondering whether you could take two cocks in your butt at the same time.
It may look extreme, but the reality is that with a bit of preparation, pretty much anyone can be a DP master.
Grease up because we're going in deep with everything you need to know about double-penetration.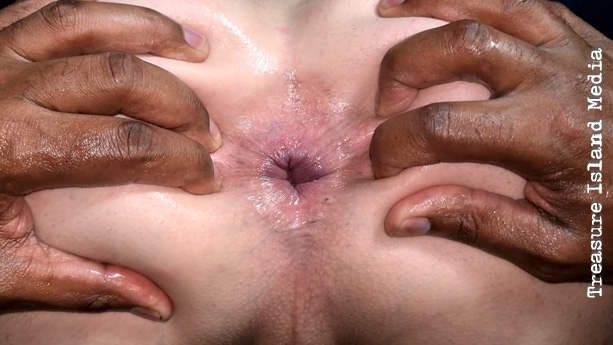 What is Double Penetration?
This is pretty self-explanatory but when it comes to man-on-man action, double-penetration is when one guy takes two cocks in his butt at the same time.
It's a move that requires at least a threesome for it to be possible – two guys are simultaneously fucking the third guy. The cocks of the two tops are positioned so that they're shaft to shaft, and the bottom's ass expands wide enough so that both cocks can be in him at the same time.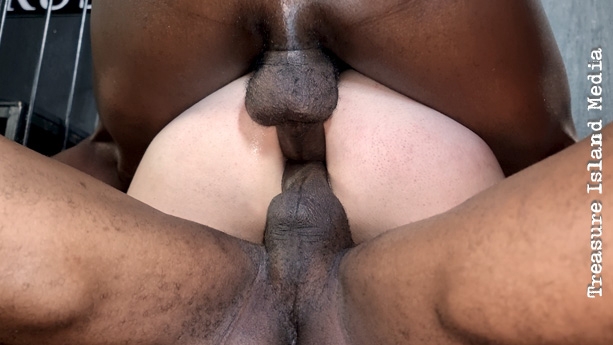 Why Experience Double Penetration?
You don't have to try double-penetration but it's something that's potentially on the menu when a threesome is going down.
From the point of view of the guy getting fucked, it's going to feel intense – possibly in the ballpark of gay anal fisting. You're pushing your body to new limits.
From the point of view of the two guys doing the fucking, it's a way to experience a unique kind of intimacy – you're cock to cock with your fellow top, feeling each other slide in and out of a fuck-hole that's being stretched tight. It's possibly also a bit of a power dynamic – the two tops are dominating the bottom, using him like some kind of sex-toy.
Also, in a similar vein to cum eating fetishes or shooting a huge gay cum-shot across the wall, being double-penetrated can be more symbolic than anything. It might be something aspirational that you've always wanted to try, or it might be the kind of thing that makes you feel like a porn star – maybe you want to film it so you can relive the moment.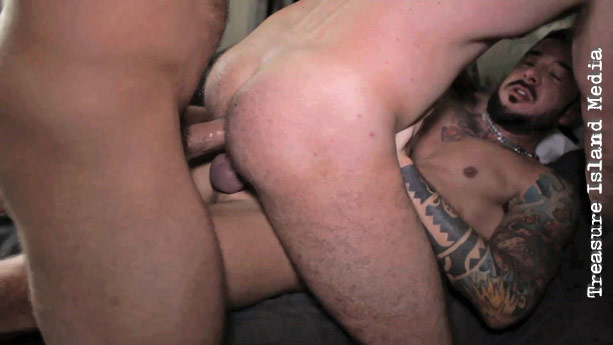 Preparing for Double Penetration
Proper Lube
While it would be awesome if we could all have a self-lubricating ass, the reality is that you're going to need plenty of lube to ensure that the double-penetration is as pleasurable as possible for everyone involved.
As well as being able to slide smoothly in and out of a greased-up fuck-hole, the cocks of the tops are also going to need to be able to slide smoothly against each other. You're going to need a lot of lube.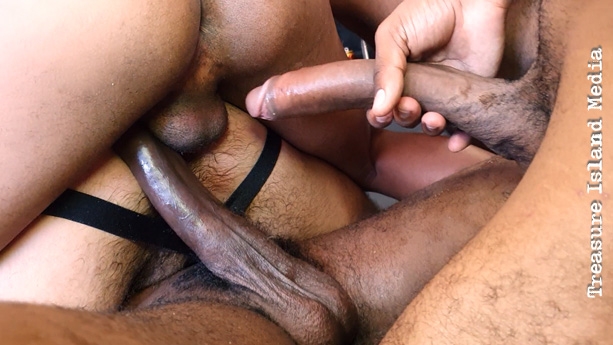 Stretch Beforehand
Being able to be comfortably double-penetrated will be easier if you're regularly stretching yourself with some anal-play. Kegel exercises are a good start, but really getting to work with some challenging anal sex toys will give you confidence that your butt can take a pounding.
If you're planning ahead and working up towards a double-penetration encounter, start with smaller dildos and gradually increase the size. This will help to minimise any risks of tearing by over-stretching your ass before.
Dildos will also come in handy just before you try and mount the two cocks of your tops. Giving yourself a good stretching with a girthy dildo will ensure that you're as loose as possible and ready for action.
It's not just physical preparation that's required for a double-penetration – it's important to also be in the right head-space if you're going to get the most pleasure out of the experience.
As with mental blocks that happen with ED, if you're overthinking the prospect of a double-penetration your body might just red-flag the whole situation. Watching some double-penetration porn can be a good way to get yourself juiced up. Erotic audio hypnosis can also take your mental preparedness next-level. Audio training can not only increase your stamina but also boost your libido. Even just reading erotic fiction about double-fisting encounters might help set the mood and get your butt twitching and needing attention.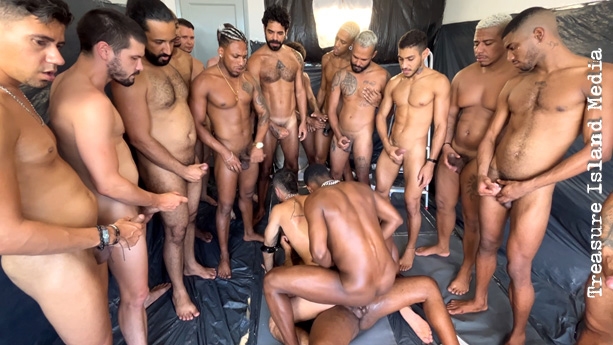 Preparing with Your Partners
Establishing trust and open communication with the guys that are going to be fucking you is going to make your double-penetration experience a whole lot better.
While spontaneous threesomes that somehow end up in a double-penetration are a lot of fun – there's no shortage of men on Squirt.org who will be eager to shove their cocks into you – if it's your first time it's probably for the best if you're up-front about how you'd like things to go down.
Like any form of gay threesome or group sex, the more that everyone can be clear and direct about what they want, the more fun that everyone is likely to have.
One of the challenges with a double-penetration is that the two guys doing the fucking need get really close and have to be able to work together. There's a few different positions that are possible with a double-penetration – and you might need to experiment a bit to find what works best for you all – but effectively the tops are going to be pressing their balls against each other, their cock-shafts are going to be sliding back and forth against each other. It's an incredibly intimate experience for all three of you so you need everyone to be on board with what's going to go down.
Ideally, you want your tops to get involved with the foreplay – rimming your fuck-hole, applying the lube, using dildos to help open you up. You want them to get really well acquainted with the butt that they're about to brutalise.
Keeping the communication going during the fucking is also a good move – making sure that everyone is in a comfortable position, that everyone is feeling good, and that everything is going to plan will help to make your double-penetration fuck-down a truly memorable experience.